Dates:
Friday, October 29th, 2021
Sunday, November 14th, 
Time: 10am – 4:30pm
Mom and Me day retreats are a fun and nourishing day out for Mothers and Daughters!
Retreat days support our physical, mental and emotional wellbeing through yoga, somatic movement, dance, creative play, writing, drawing, meditation, breath work and self-care practices for everyday life.
Day retreats are for a small group of mothers and daughters, aged 12-16 years. 
Dads and their daughters are also very very welcome!!!
what is creative Wellbeing?
Creative Wellbeing supports our emotional and mental health through creative play, expressive movement, dynamic meditation and self-care practices focused on artistic means.  
Practices vary per workshops and can include: yoga, tension release, dance, somatic movement, self-compassion techniques, focusing technique, authentic communication, partner work between adult and teen, creative writing and nature-based practices!
Moms and daughters will learn the science behind wellbeing, how creative expression supports resilience and mental health, and experience the physiological benefits of practical self-care techniques that they can apply to their everyday life.
Each workshop will offer different skills and learning for the group and will be customised to the interests and needs of those who attend.
retreat days blends the best of:
Yoga, Dance, Mandala Art, Creative Writing, Expressive Movement for Tension Release
Somatic Movement for neurological health, calm and relaxation
Life and Wellness Coaching techniques to support self compassion, empowered self-care and inner confidence
Meditation and Energy Balancing techniques for self awareness, boosting focus, improving energy and calming thoughts
Tension and Anxiety release practices to better manage stress and reduce worry
Together we will explore how to:
• De-stress mind and body
• Reduce worry, anxiety and tension
• Sleep better at night
• Calm ourself in the moment, in everyday scenarios
• Regain focus and clarity
• Develop inner confidence
• Communicate how we feel
• Express pent up emotion in a healthy and constructive way
• Make decisions that are right for us!
These workshops will support young adults with practical skills to support their everyday health and mental and emotional wellbeing.
resources for parents + Educators
Day retreats, Teen wellbeing and Workshops for Schools (students, teachers and parents) are based on the Creative Wellbeing program. 
This program has been developed over many years teaching children and young adults dance, yoga, meditation techniques, life skills and the tools for mental and emotional wellbeing through camps, classes, school wellbeing programs and family workshops.
Workshops based on this program have been created for Parents, Teachers and social workers to help them support the children they care for- check out The Creative Wellbeing Program for details of this six week course.
So what did parents and teachers have to say after completing this course: 
"This course exceeded my expectations. The breadth, depth and gentleness of the exercises made them easy to translate into every day teaching with all ages and capabilities! Laura also incorporated lots of self- care practices along the way….something very much appreciated!"
Michelle – Primary School Teacher
"A super programme with lots of useful information, very practical with a deep dive into the science behind each of the practices. For anyone working in a supportive role with children, this essential programme offers practical guidance on how to support children and equip them with the tools needed to thrive in these uncertain times."
Grainne – Parent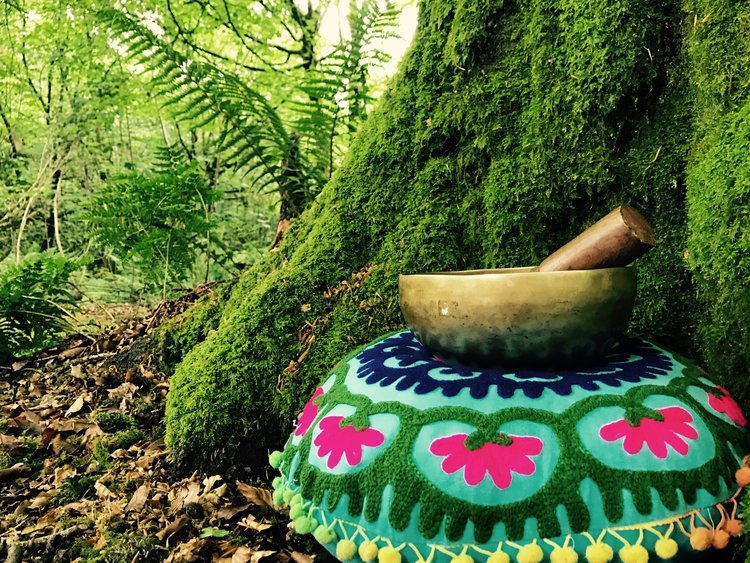 Morning: 10 – 12noon
Welcome Circle!
Movement for Tension and Stress Release
Self-Care Techniques for Grounding + Calming 
Creative Task!
Lunch Break: 12 – 12:30pm
Please bring a packed lunch, snack, water and a flask of hot tea
Afternoon: 12:30 – 3pm
The Science of Wellbeing
Somatic Movement, Body Puzzles!
Mother + Daughter Partner Practice, Authentic Communication techniques
Practical Techniques for Emotional Awareness + Support
Deep Rest Meditation
Preparation for outdoor practice! 
Nature Practice: 3pm- 4:30pm approx
In the local forest or by the sea! 
Each day retreat will offer a different outdoor practice to enjoy!
the science of wellbeing:
Every day retreat will offer a different focus, share different wellbeing skills and introduce new creative opportunities to learn and embed new self-care techniques. Within the Science of Wellbeing section of the retreat day, we will discuss topics such as:
How stress affects our body and mind.
What is meant by Emotional Intelligence and Emotional Wellbeing.
Why creativity, play and imagination are critical to personal health, personality development and resilience.

How Self-care practices create calmness and clarity.

How Mindful Movement and Body Puzzles can refresh our brain, our focus, our ability to learn and improve our coordination.

How the body responds to imagery and how this can soothe our nervous system, and calm our stress response.

The science of touch, the physiology of sensation and how embodiment and sensory awareness can relieve anxiety and worry.

 
Please bring –
Water, Hot Tea / Hot Chocolate, Packed Lunch & Snacks

You will enjoy the hot tea and a snack when we do our outdoor practice! 

Also bring a yoga mat, warm blanket, and cushion/supports for your comfort when sitting.

Please wear warm, comfortable clothing (whatever makes you feel good! It does not have to be yoga pants!)

Bring a rain coat, umbrella and warm layers – fluffy socks, an extra jumper so you are prepared whatever the weather may be!
10- 4:30pm in Kilcoole village at the 'Yoga Barre Studio'.
Kilcoole is the next town after Greystones as you drive from Dublin to Wicklow.
The group will be limited to a small number to allow for one to one attention and to support everyones ease and comfort. 
Time: 10- 4:30pm, please arrive from 9:50am
Dates: October 29th & November 14th

Each retreat day is limited to a small group, book in advance to guarantee your place.
Each date includes different practices, learning, self-care techniques and nature practices for essential wellbeing.

Day Retreat: 120 euro per person (parent/daughters), limited to a small group

If you cancel within 48 hours before the workshop, 50% of the cost will be retained to cover the cost of your place.

Book your places:

Register with the payment link below or through bank transfer.
Email your name, your daughters name and age, and the retreat dates you wish to attend to laura@healingyoga.ie
DATES: Sunday 10-5pm, Feb 27th & March 6th
Enjoy movement, meditation, journeywork, ancestral healing, and family constellations to bring greater harmony and healing to you and your family.
Learn More
Discover more events to support your wellbeing
"Laura Dowdall's workshops were a central element in our recent, highly-successful 'Wellbeing Week'. Laura's gift of effective communication, pupil-motivation and enjoyable presentation ensured a positive response from teachers and pupils. Feedback indicated that many relaxing techniques were learned, which will help us all become more in tune with our bodies and deal with stress. With the current national focus on wellbeing and the importance of teaching positive mental health strategies to children, these workshops are a timely and valuable resource to any school."
"Laura is a highly skilled and much learned teacher and practitioner who invests great amounts of energy and warmth into her workshops. I know of no one who is so determined to spread the benefits of somatic yoga, and so passionate about what she does, which is equalled only by her supportive nature and wisdom. The lessons I have learned from her are incredible, and I highly recommend her to anyone seeking a balance of learning and enjoyment."
"Laura, your energy, knowledge and passion for adult and pupil wellbeing is fantastic!"
"I'd highly recommend this programme. The teachers workshops were really useful and gave lots of helpful activities for the classroom. Thank you!"
Read more feedback from teachers, parents and kids
Sign up for wellbeing
tips & tutorials